Onsen Discovery editorial here, how are you?
This is the second part of our Amakusa series to introduce fun activities!
You may wonder what comes next after relaxing in Onsen.
I guess you're ready to have some fun, right? 
Amakusa gives choices of activities such as watersports, fishing and going on a cruise.
Did you know this place is called "an island of full of activities" ?
Alright then, let's Discover one of Amakusa's representative activities
"A dolphin watching" !!
Located north of Amakusa Shimojima, "Tsuuji-island" has
around 200 wild Indo-Pacific bottlenose dolphins on offshore.
Once you sign up on the tour, the boat will take you to offshore and...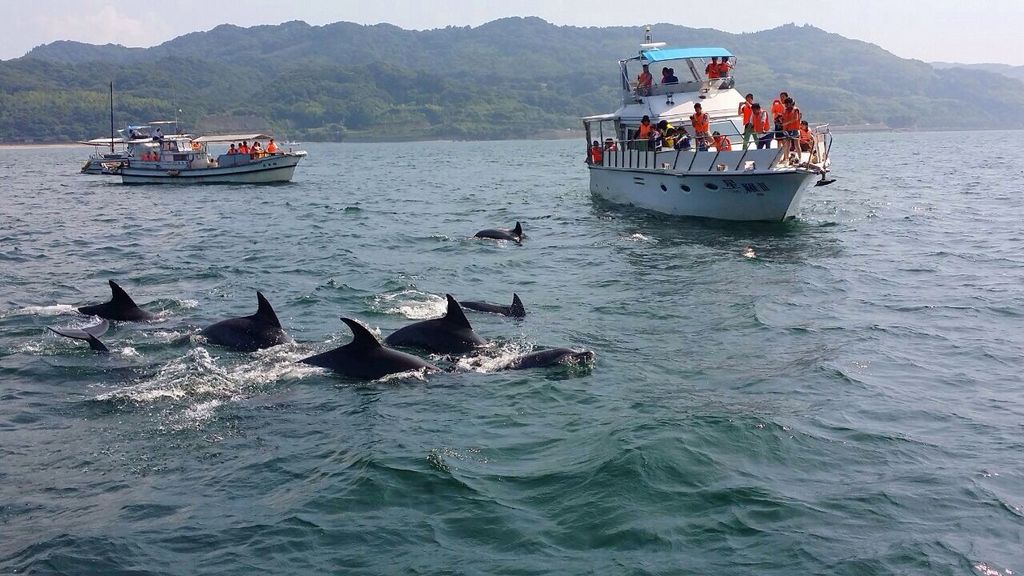 [Reference: Jalan]  Accomodation/Hotel Reservations - For travel , visit Jalan net
Soon after, you're welcomed by many dolphins!!
They look happy in the dazzling water♪
They came to swim along with our boat repeatedly!
It's so much fun feeling like you're swimming with the dolphins as they entertain us with their great hospitality!!
You want to share the excitement with your friends back home?
Don't worry, you'll have a plenty of time to take their pictures/movies!
While Onsen makes your body feel warm and relaxed, watching cute dolphin brings warmth even to your heart.
So why not take a break from busy days, it'll be a great treat for your mind and soul?
----------------------
Make sure to check out the special movie created by the local broadcast station:
【KIBS "Amakusa Dolphin Story"】
Information & Reservation for dolphin watching can be made from "Reservation Center"♪
(Site available in Chinese, Korean and English)
[Reference:Dolphin Watching Reservation Center] http://www.iruka-watching.jp/
====================
★Coming up next★★
Amakusa Onsen Vol.3
Amazing View of Natural Monument! A kawaii rock looks like that animal?
====================
Don't miss it!